Offered weekly all summer long
Basketball Summer Camps
Summer Camps for Boys and Girls Ages 4-14
Marty Seidlin brings his experience as the former head basketball coach of the Cardinal Gibbons High School Team to his illustrious summer basketball camps. We train a wide range of ages and children, including youth basketball & basketball traveling team skill level from ages 4-14. Their level of experience does not matter!
Our coaching staff, players, and staff bring technical experience in youth basketball training that is unmatched by any other South Florida basketball camp. Simply put, Coach Marty's Camp offers the best youth basketball training for both boy's basketball and girl's basketball. We focus on speed and agility, and we bring in top coaching talent to work with kids toward that end.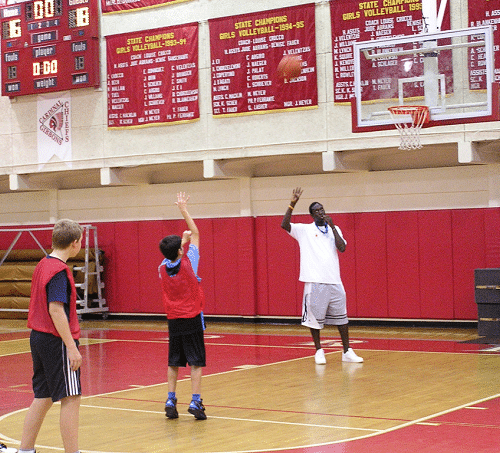 2023 Camp Dates
June 26 – June 30
July 3 – July 7 (4 days $210.00, No Camp July 4th)
July 10 – July 14
Camp Location
Christ Church School
4845 NE 25th Avenue
Ft Lauderdale, FL 33308
(conveniently located near Commercial Blvd between US1 and Bayview Drive)
Pricing and conditions
No registration fees
No refunds
Tuition for full weeks is $250.00
Sibling specials available – Please call for information!
A $50 deposit per session is due immediately to guarantee your reservation. (E.g. $250 tuition minus the $50 deposit = $200 balance due)
If a camper has to miss a week(s) for any reason, they will be given a credit to be used for any future week(s).
All sessions are Monday to Friday 9am to 4pm. Extended hours available.
Frequently Asked Questions
T-Shirt, Shorts, Socks & Sneakers
All camps are from 9AM to 4PM Monday thru Friday.
Please contact our office for special arrangements.
Lunch may be purchased for $6.00 per day or the child may bring lunch. Purchased lunches are a choice of a cheeseburger, chicken nuggets or two slices of cheese pizza and include a snack and a drink.
The canteen is a physical store on site selling, snacks and drinks. When you arrive at camp you will be asked if you wish to deposit any money in the canteen. Whatever amount you wish to deposit will become the amount of credit you have in the store. At the end of camp any unspent money will be returned to you in full.
A typical day includes the following:
Warm up & stretching
Contests, Tournaments & Prizes
Games – Each camper plays two games a day!
Exciting Teaching stations
Drills
Fun Activities
A deposit of $50.00 per session is due with application in order to hold a spot. This is a deposit (not a registration charge) that gets applied again your balance. (Ex. $250 tuition – $50 deposit = $200 balance due)
We accept cash, checks, Paypal and all major credit cards.
The balance is due approximately 10 days before the start of each session.
There are no refunds. Any payments made may be transferred to another session or another camper.
Ages 10-14 there is one coach for every 8 children and ages 4-9 we have one coach for every 4 children.
We welcome parents to come and watch at any time, especially our Friday Final Four tournament and All Sports Olympics.
Children are grouped according to age and ability.
Yes, we do our best to honor any special requests.
The Marty's Camps Approach
Youth athletes that attend our exciting basketball camps will be exposed to basketball drills & basketball clinics that will prepare them, no matter their level or experience, to compete in competitive basketball games.
The Marty's Camp approach to basketball training is designed to help youth basketball player develop athletically.
Typical Daily Activities
Warm Up, Stretching & Conditioning
Campers participate in drills
Exciting Teaching Stations: Shooting, Passing, Ball Handling, Defense & Rebounding
Games—Each camper plays 3 full court games a day!
3 on 3 competition
Contests, Tournaments & Prizes
Special Activities
Special Awards Ceremony on Fridays
"Final 4" Tournament on last day—all campers play for the chance to win League Championships
No dribble tournament (passing & cutting without dribbling the ball)
Each child will be given one on one attention with our great coaches!
All programs located at Christ Church School
4845 NE 25th Avenue, Ft Lauderdale, FL 33308
(conveniently located near Commercial Blvd between US1 and Bayview Drive)